Ask any of the Garden's horticultural staff what their favorite plant is, and you will not only get a variety of answers, but you'll come to find out how difficult it is for them to select just one. Luckily, with diverse staff picks you'll get plenty of options for your garden at the Fall Plant Sale. These recommended plants are low-water users and tolerant todesert conditions even though many are not native to the Sonoran Desert. Here are a few of stafffavorites.
The Garden's Fall Plant Sale returns Oct. 20-23. Reservations are required and open Sept. 19.
1. Bursera fagoroides
This succulent tree also known as fragrant bursera is widespread throughout much of Mexico. Its featured characteristics include a swollen trunk, reddish, peeling bark and fragrant leaves. It has a sculptural quality that lends itself to any unique garden. For those that may not have a large garden, it can be grown in a container ortrained into bonsai form.
2. Aloe dichotoma 
Unlike most other aloes, which are mostly stemless, A. dichotoma will form like a tree over time. As the plant grows, the bottom leaves drop revealing a stunning smooth and striped trunk. The quiver tree, as it's commonly known, can be grown in containers, as long as the soil media is well-draining and is fertilized periodically.
There are many species of Adenium or desert rose, but A. arabicum differs by a squat and broad caudex (thickened stem or root) and larger leaves. The unusual forms and showy flowers make them a splendid choice for desert gardens. Desert roses are easy to care for, as long as you follow their cultural requirements. Download the Desert Gardening Guide on Growing Adeniums for tips on how to care and maintain your desert rose.
4. Ferocactus pilosus 

The Mexican fire barrel cactus is a drought and heat tolerant plant. Its attractive red spines are highlighted when backlit by sunlight. It can be used as a substitute plant for the golden barrel, if a different look is desired in your garden. An added perk of this cactus, is you can eat the juicy fruit which tastes like lime.
5. Antigonon leptopus 
Do want  a heat-loving vine? Look no further than the coral vine. A. leptopus grows beautifully against south and west walls and flowers almost year round. The pink flowers appear in bountiful clusters and bees find it irresistible. It is slow growing initially, but once it takes hold, it will eventually spread up to 20 feet.

6. Gossypium harkensii 
San Marcos hibiscus is a tough-growing shrub that thrives in heat. The glossy green, heart-shaped leaves and creamy yellow flowers ablaze in the hottest times of the year. The shrub is excellent for small spaces and prefers hot areas of the garden. It's an easy-to-grow shrub with very little maintenance required.
7. Yucca rostrata
A statuesque and possibly the most handsome of all yuccas. The blue-green leaves form a perfectly symmetrical head and look stunning in any desert garden. Perfect for a water-conserving garden.
8. Agave colorata 
A heat and drought-tolerant agave. As the powdery-blue leaves unfurl, it leaves behind an unmistakable impression. It rarely succumbs to the agave snout weevil and is a good choice if this pest has been a problem in the past. Although flowering once in its lifetime, it leaves behind plenty of offsets or pups for the next generation.
9. Echinopis 'Flying Saucer' 
A cactus that will surely turn heads when flowering. The pink, saucer-sized flowers are out of this world and appear throughout spring and summer. Although the flowers open at night and are short-lived, this hardy plant is a must for low-water gardens.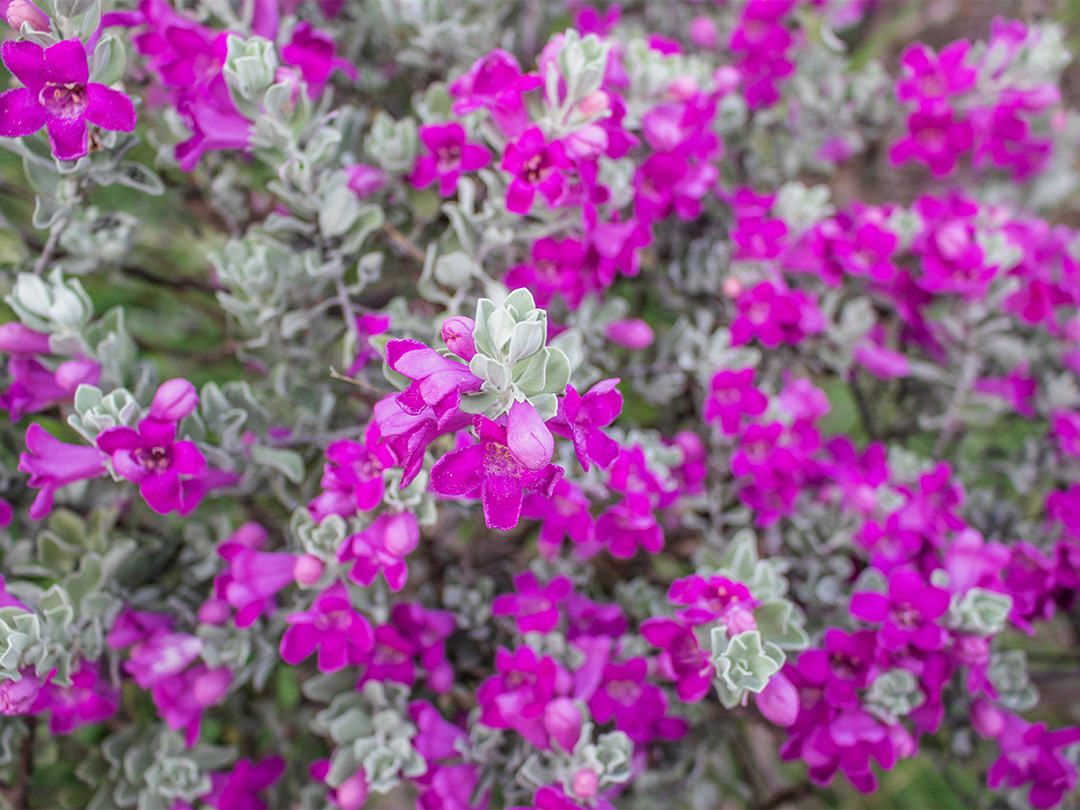 10. Leucophyllum x 'Convent'
Love the look of Texas sage, but perhaps do not have a large space? Check out this selection for its shorter growth habit. As the humidity rises, the purple-pink flowers explode from summer through fall. Prefers full sun, good drainage and little water once it has established into your garden.